Mark Berenberg MD: Recruiters Are the Way To Go.
Last week I had a long conversation with Mark Berenberg, MD, a pulmonary and critical care physician, now retired after a varied career: in some of Boston's best hospitals, in private practice, and in managed healthcare groups.  I wondered, with all this varied experience, if he'd ever had occasion to work with staffing agencies and recruiters.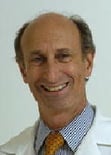 Brigette Flores:
Have you ever used a staffing agency in any capacity?
Mark Berenberg, MD:
We've used physician recruiters and we've hired physicians through those recruiting firms. It's certainly a great method for medical staffing, trying to vet out what you're looking for and I've found agencies to be very helpful.
They're also good for physicians who are looking for jobs.  They do a pretty good job of it, I think.  I was hired in my last position as Chief Medical Officer with Atrius Health and I really went through a full vetting process by an agency even though the group that was hiring me knew me pretty well. But they had a fair number of candidates for the position and I had to go through the whole chain of events with the staffing agency.  I thought that was a good idea.  I wanted to be interviewed by them, submit my resume and have them, who the group trusted, make the recommendation. Despite the fact that the group knew me, I wanted them to say, "Yeah, that's the guy for the job."
Brigette Flores:
So it sounds like recruiters are good for a second opinion. What else might be an advantage to working with recruiters?
Mark Berenberg, MD:
I think one the advantages of working with recruiters is that they do background research, get references for physicians or whoever you want to staff… for an administrator, for a hospital, a Nurse Practitioner, etcetera. It's a very good first level for doing the groundwork you wouldn't otherwise have time for.  When you're not experienced or it's just not something you do – that's not your primary job – but that is an agency's primary job.  They have pro formas for doing this kind of thing and they tend to attract very good people and they limit down the number of applicants.
I've also gone through a process of medical staffing whereby we just put out on our website a job description: you get a lot of resumes, you have to go through them all.  It's quite tiresome because you can get hundreds of resumes and you're scratching your head and trying to establish 10 things you're looking for and check them off and as you go through each resume, you try to narrow it down to, say, 10 people you'd like to interview.
It's a lot of work. You set up an interview process which is basically a half hour with 5 people doing the interviews.  It's like speed dating.  That's tiring for the interviewee too. An interesting thing is (you invite people to come over two days) some people who you've rated really highly… never show up.  So now you've got a gap in your interviewing process.
At the end of usually about 4 hours of interviewing, you get together with everyone doing the interviewing and you vote. You rate them by the certain set of guidelines – everyone is working from the same list – and usually it works out that you come down to about 2 people and everyone agrees on those, on one or the other.  I've always found that process easier for administrative type of positions and with nurses in supervisory positions.  But when you're hiring doctors – they come from all over – and depending upon what you're looking for, I think recruiters and staffing agencies are the best way to go.
Brigette Flores:
How do you choose between a recruiter or a staffing agency?
Mark Berenberg, MD:
You have to find one with a good reputation in the area.  It's very important. There are national search firms and there are more local search firms.  I tend to like the more local search firms.  I still get calls from the national firms, all the time, "we need this, we need that." They don't really care too much. Have they seen my resume? No. Probably not.  They know I'm a member of the right organizations, I've got my boards, and fine we just fit him in here and get these hours covered; they just go fishing.  I've talked to people from out of state and it's pretty quick and dirty – let's get this person in here.
More personal agencies, on the other hand, tend to be more detail oriented. I've worked with doctors who had to leave the hospital for one reason or another and I've given them references. I've gotten calls from very good agencies, asking if they could just talk to me for about a half an hour, really get a sense of the candidate: the positives, any negatives, etc. and its confidential.  That's a good agency.
It tends to vary too by what you're looking for.  Primary care docs are golden. They're hard to find. It's a very, very difficult job – low paying, high hours. They used to be  gatekeepers, keeping people from running here and there and everywhere but now it's more of "OK. I'm here with you but I want to see the best person for, say, my skin problem," and you are then going to make a referral, try to keep the person within your network.  I've seen a lot of young people who start as primary care doctors. They're already discouraged after a year or two, you know, "I don't get to see my kids, there's so much work when I get home on the computer…"  And they're really great doctors going into it but it's too much.
When I was doing a lot of hiring, we were looking for primary care doctors.  The name of the game was building up a cadre of patients in managed care, which is to say number of heads, because the government would give you a certain amount of money each year to take care of those people. The more you had, the more money you had and you would spend it taking care of these people. That's a true managed care program as opposed to being reimbursed on the fee to service basis.
Brigette Flores:
Is there anything you think, in terms of how people staff, that's really going in the right direction?
Mark Berenberg, MD:
There are developments… where people are looking more at outcome-based measures. If you're an orthopedic surgeon, you do a knee replacement and the patient's goal before the surgery is to get back to playing golf in X amount of time.  There are agencies that send out questionnaires asking where that patient is in their recovery.  That's really an outcome-based way to look at how physicians rank and rate up.  That's called "patient-based outcomes".
As I continued our conversation, I asked Dr. Berenberg about his focus on primary care physicians and why hiring them is so important.  He gave me two great reasons…
Download his answers for free.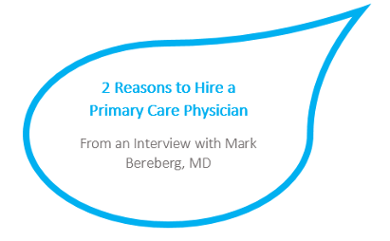 CONTACT US
One of our specialist will reach out to you.